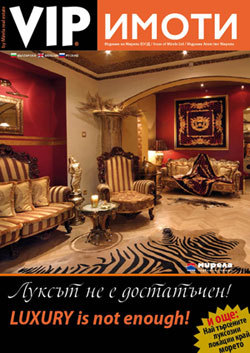 'VIP estates' is the brand, which will present to your attention offers for sale and rent of unique properties in Bulgaria and abroad.
From the rich Mirela's database, with more than 25 000 proposals for sale in Bulgaria, we present you a selection of accents, including houses, villas, town and holiday apartments, outstanding with individual attitude to location, architectural decisions, construction and interior.
'VIP estates' brand brings the idea of uniqueness as a way of thinking and life style. It also expresses the notion of prestige in accordance with the conditions and the perspectives of development in the Bulgarian real estate market.  
The first edition of Mirela's catalogue for luxurious properties is with 10 000 circulation and is for free distribution. It can be found in Mirela's offices, partners and representations on the territory of the country.
The PDF size catalogue can be downloaded from here. 
(Size of the file - 4.08MB)
With the publishing of the 'VIP estates' catalogue, the common circulation for the first 2008 half-year of all published Mirela's catalogues is over 100 000 copies.
A great interest was shown in the catalogue 'Properties in Sofia' which was published in the middle of June 2008 with 20 000 circulation. For less than a month it was out of print and an additional 5 000 copies were published. 
If you would like to receive 'VIP estates' on the mail, please fill in the contact form or send us a message with your exact address for delivery or name and telephone for contact.
All costs for delivery by Speedy couriers are at the buyer's expense. 
Mirela Real Estate Agency 
20.07.2008, News from MIRELA Real Estate Agency